In previous years, many companies did not realize the importance of workplace health and wellness programs in reducing time off due to sickness, increasing employee productivity, and increasing team morale. At work, health, happiness, and productivity are all related, and just recently there has been a larger focus on health, especially for employees that spend an extended amount of time in the workplace. A few ways your midsize company can increase health awareness and promote the idea of wellness is by giving your employees healthier food options, offering on-site medical/health benefits, giving encouragement and incentives for employees to reach their health goals, and promoting productivity by de-stressing.

Say "No" to Junk Food

When your employees are working and hunger strikes, they will reach for whatever is in front of them. Vending machines are well known for containing all kinds of unhealthy snacks that are loaded with sugar and trans fat. In the journey for a healthier lifestyle at work, say so long to the junk food and replace these unhealthy treats with healthier vending machine and cafe options. Also, make sure to have water coolers readily available so employees can avoid a stop at the soda machine.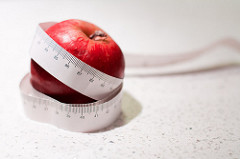 Select the healthier option when hunger sets in. Photo Credit: Natasia Causse

On-site Medical Health

Along with diversifying and adding healthier food options, provide frequent (and free) preventative health screenings for employees. This can help them to better understand their own health and take measures to live a healthier lifestyle. When your employee is healthier, they miss work less. Another way is to bring vaccinations and flu shots to the workplace. Employees will see that they are cared for and as a return in investment for the company, they are less likely to miss work due to sickness.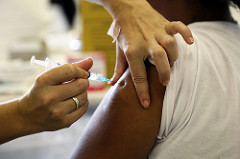 Providing preventative care can go a long way. Photo Credit: Pan American Health Org

Encouragement and Incentives

It is important to have a supportive company culture, even when it comes to health and wellness goals. Employee participation and engagement can be encouraged by group fitness challenges/competitions. Set up a company softball, kickball, or other team activity that would promote physical activity and fun. Offer incentives and prizes to the winners of the competitions. You can also encourage employees to share their fitness goals with one another for added accountability.

Take Care of the Mind

Health isn't limited solely to nutrition and exercise. Work, for many, is like a second home, and when employees spend so much time at work, it is also important to consider mental health. Studies show that employees who are over-stressed in the workplace have lower levels of productivity and are most likely to skip out on work completely1. There are different methods to ensure employees get "mental rest", such as taking frequent breaks, incorporating areas in the workspace that are designated to resting and relaxing, and by offering stress reduction workshops.

There are many corporate health solutions that provide cost-effective ways to decrease time off due to illness, increase productivity, and boost morale. When a healthy lifestyle is encouraged in the workplace, not only will the employees benefit, but so will the company as a whole.

Feel free to contact us to see how Active Wellness can assist your company in implementing holistic health solutions.

1. Higginbottom, Karen. "Workplace Stress Leads to Less Productive Employees". Forbes Magazine. 11 Sept. 2014. Web. 22 Nov. 2015